2003-2004 Western Home Awards
Breckenridge, Colorado
Artful planning with a sense of history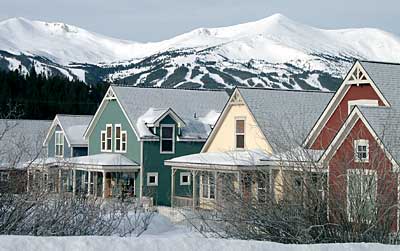 Photo by David O'Neil
Rows of vividly painted, gabled houses with porches front small lozenge-shaped parks.
ROCKY MOUNTAIN VILLAGE
Challenge: Persuade the town to adopt denser development on an 85-acre site originally zoned for four large residences and design a community that's child-friendly, walkable, affordable, and authentically tied to its region. The land consisted of dredge piles left over from mining operations.
Solution: Developer David O'Neil and architects Tom Lyon and John Wolff spent three years convincing authorities that the Wellington Neighborhood, a carefully designed scheme for 122 mostly single-family residences, would enhance the town and avoid sprawl. It feels like a Currier & Ives village come to life. More than 70 freestanding two-story houses in six configurations - from two-bedroom duplexes of 1,000 square feet to four-bedroom dwellings of 1,800 square feet - have been built so far.
MERIT AWARD - Wolff Lyon Architects, Boulder, CO (303/447-2786)
SPECIAL EFFECT

The houses are organized around a series of "green courts," or small parks, which establish the village character and provide safe places for children to play. Garages are on rear alleys.

The gabled roofs, broad front porches, picket fences, and simple ornamental details echo the Victorian-era architecture of historic downtown Breckenridge. Inside, each house boasts an open kitchen and family room.

Affordability. Single-family homes range from $225,000 to $395,000, less than half of the area's median.

Floor Plan by Wolff Lyon Architects
Green areas represent parks between houses.